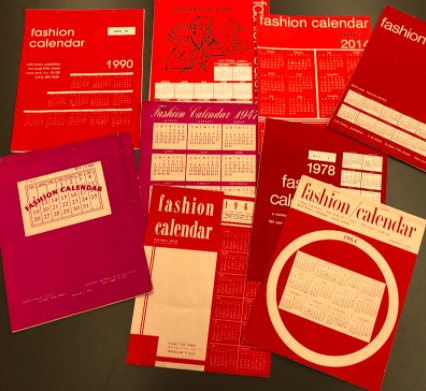 By Natalie Nudell, Fashion Institute of Technology
My research focuses on the publication Fashion Calendar (1941-2014), published by Ruth Finley (1920-2018). The weekly and later bi-weekly subscription-based clearinghouse emerged out of necessity. The American fashion industry, still unorganized but growing significantly during the 1940s, was plagued with conflicting fashion shows and events. For over 70 years, Finley's publication was the exclusive and centralized source for all logistical information for the American fashion industry as well as listed global events. Year-round fashion, art and philanthropic events and importantly NYFW listings were arranged and printed on pink paper. The Calendar represented a key source for the circulation of vital and timely information for fashion insiders, but was also an important entrypoint for designers and brands into the American fashion industry. Her independant and personal approach in mediating the schedule for seven decades and her support of American fashion at-large helped influence the trajectory of a national industry. In 2014, upon her retirement at 94-years-of-age, the CFDA acquired the publication and took over scheduling NYFW, and Finley then donated her life's work, her archive, to SPARC at FIT. 
The 1940s was a transformational decade for American fashion, which had previously relied on reproducing French fashions. The wartime interruptions to the French industry as well as the development of mass-production capabilities enabled American designers, led by PR maven Eleanor Lambert, to articulate American design and its major contribution "sportswear" or read-to-wear in the post-war period. Interestingly our contemporary crisis– the Covid-19 pandemic, is set to mark another seismic shift in the global fashion system, which by now is ever more entangled. The interruption of the global supply chain, suspension of retail activities and the financial crisis seems like the final blow to an already unsustainable and environmentally caustic industry, reliant on never-ending and ever-faster consumer demand. 
I believe the Fashion Calendar, as a record of the American and Global fashion industry from the 1940s to 2014, just six years before this unprecedented global crisis, is ever more relevant as it is now bookended by two pivotal global events, and ever-more representative of time that is firmly in the past. 
Image caption:
Selection of Fashion Calendars, Published by Ruth Finley, at Special Collections and College Archives, Gladys Marcus Library, The Fashion Institute of Technology, SUNY, March 10, 2020.
Photo courtesy of Natalie Nudell